Colibri Air-Bearing Dicing Spindles
COMPACT—FLEXIBLE—RELIABLE
Colibri air-bearing dicing spindles perform in dicing environments at high speeds with minimum vibrations and low run-out for the long term;
providing high quality dicing applications for soft and hard materials. 
Spindles are equipped with a DC brushless motor at a range of 1.2kW to 2.5kW, for a variety of applications.
RMN Models are equipped with an integral shaft-lock feature, to support twin-spindle machine configuration.

Vibration Measurement Test – Comparison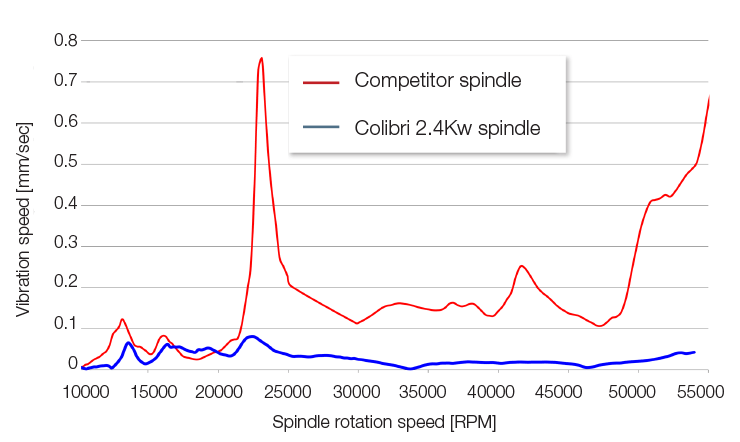 Featured Spindle Models
RMN
The RMN is an especially compact solution that offers a range of power options:
1.2 / 1.8 / 2.4 kW, 60 krpm — all in one spindle.
Exclusive ON/OFF brushes increase brush life by 1000%
Brushes touch spindle shaft only when needed!

Other features include:
Flexible motor type: 1.2 / 1.8 / 2.4 kW, 60 krpm motor selection – all in one spindle housing
Exceptionally short housing, ideal for compact dicing systems – both single and face-to-face spindle positioning
Top spindle mounting (Gantry) – enhanced structure rigidity
Improved air-bearing design – higher load capacity and rotor stiffness
Better air labyrinth at the spindle front – prevents dirt penetration
Integral shaft lock for easy blade replacement
Removable wheel mount can be dismounted/exchanged by operator for both hub and hub-less blades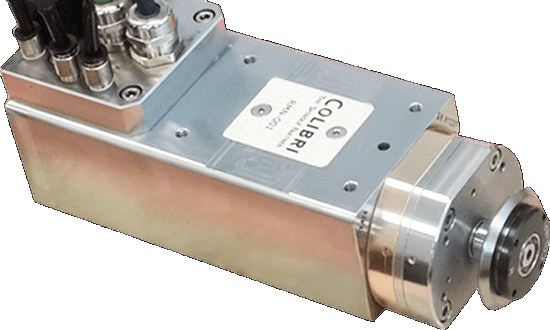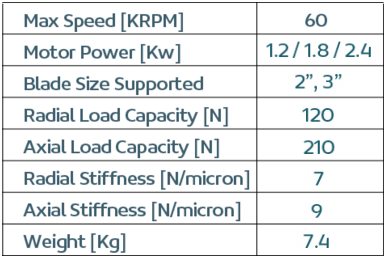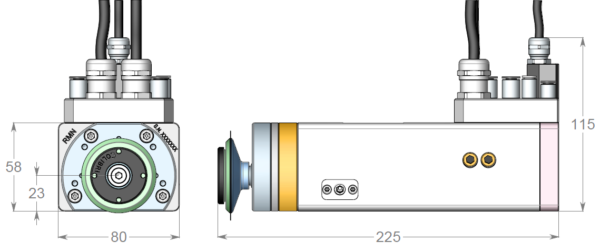 SHA-A
The SHA-A model is the largest spindle of the Colibri Dicing Spindles product family. It was designed for heavy-duty dicing application of hard materials, such as thick ceramics, glass, sapphires, TIC and others. Owing to its ability to support a large blade diameter, the spindle is also used for dicing passive components.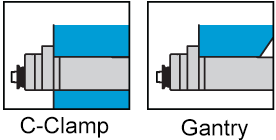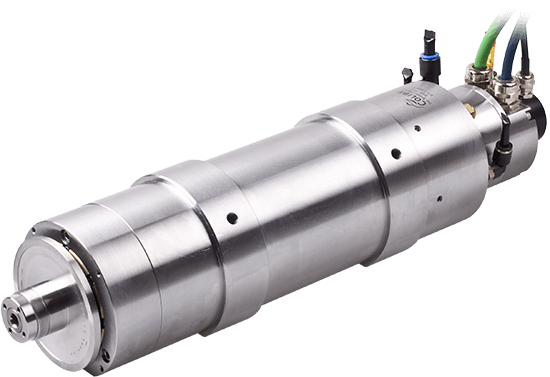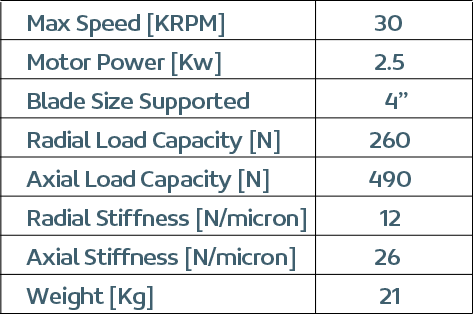 SHA-B
The SHA-B spindle model was developed for heavy-duty package Singulation applications with extremely high throughput and large blade diameter. As this spindle provides significantly higher rotor stiffness and load capacity as compare with the smaller spindles in the family, it would be very suitable for processing BGA, QFN, LTCC and similar materials at high feed rate.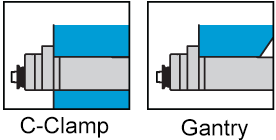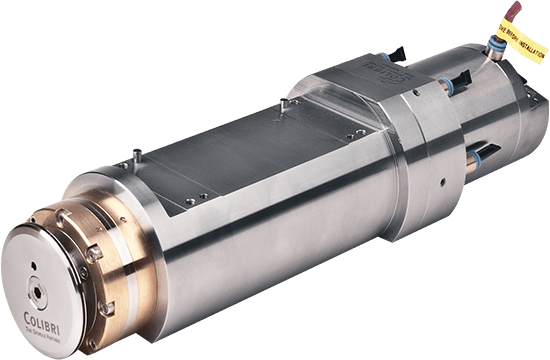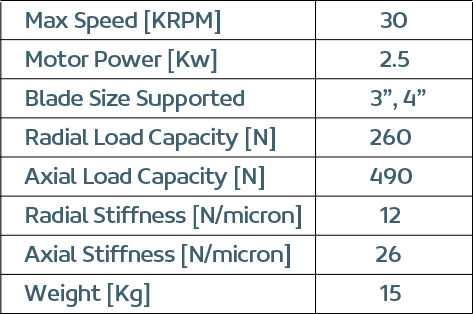 APPLICATIONS
SOFT & HARD-MATERIAL DICING SPINDLES
Colibri's Air-bearing Dicing Spindles are a world-leading solution for dicing Silicon Wafers, GaAs, PZT, Fiber Glass Epoxy, Alumina, Plastic and Ceramic BGA, or Sapphire, Titanium Carbide, Glass and Tantalum. Spindles have high stiffness, low run out and high-speed rotation to provide an exact cutting matrix, plus the ability to reverse directions for left or right rotation, operate in wet environments and integrate a dynamic coals contactor for height measurements. Colibri Air-bearing Dicing Spindles are a preferred supplier to BE Semiconductor Industries N.V. (Besi).
DRIVER
Spindle & Driver Package
In order to assure the best performance, Colibri offers to its customers a Spindle & Driver Package solution: Spindle, driver and driver accessories in one combined package. These digital drivers are optimized to handle the spindle motors efficiently, with maximum performance and user-friendly operation. Sensor-less and sensor driving systems.
SD2S Series Driver 
The SD2S Series driver is a new generation, user-programmable digital driver that offers several communications options and operates all Colibri motor types. It's a compact unit that fits easily into the electrical cabinet and is an especially robust unit as well; built to keep on performing even in the most demanding environments.

ACCESSORIES
Blade Holders & Tools
Standard Titanium Flange Set
Standard blade holder for hubless blade for 2" and 3" blade OD.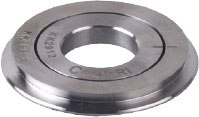 Combined Wheelmount Systems
.
Combining wheelmount and flange in one unit  for 2" and 3" blade OD.

Tool Set
Tool set for blade exchange and wheelmount handling. A pre-set toque drive provides repeatable tightening torque.