All HSM Jet Spindle models including the High Pressure, can be paired with the wireless Display Unit, allowing real-time monitoring of spindle rotation speed during machining.
The Spindle body is fitted with a wireless transmitter that sends RPM data to the Display Unit (receiver) mounted outside of the CNC machine for easy viewing.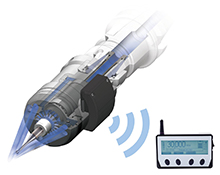 Part Description
Part Number
TJS TSD Display
27-088-009
2.4GHz Sensor Replacement Kit
27-080-102
Parts are sold separately
Downloads
no files found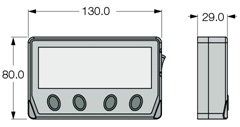 Display Unit is powered by a 5 VDC universal AC/DC power adapter connected to 220/110 VAC power source.
Transmitter is powered by a non-rechargeable CR2 lithium battery that comes with the spindle package.
Display Unit can read up to 127 Jet Spindles installed on a single CNC machine. The active spindle is monitored.
Display Unit is mounted outside of the CNC machine – spindle transmission distance is approx. 10 M.
Refer to the Spindle User Manual for prerequisite Display installation and device pairing instructions.