Colibri Spindles Air-Bearing Dicing Spindle RMN Model is an especially compact dicing spindle that offers a range of power options: 1.2 / 1.8 / 2.4 kW, 60 krpm — all in one spindle. The RMN Model also offers several unique features including the BRUSHES OFF/ON feature increase brush life 10 times!
COMPETITIVE ADVANTAGES
Build more compact machines
Install more machines in less space
Get more motor power options in one spindle
EXCLUSIVE ON/OFF BRUSHES
Increase brush life by 1000% for big savings in brush replacement
ON/OFF BRUSHES touch the spindle shaft only when needed (during height check procedure).
Dramatically reduces wear on brushes from continuous use – increasing brush life 10 times!
More great advantages of the RMN design:
Flexible motor type: 1.2 / 1.8 / 2.4 kW, 60 krpm motor selection – all in one spindle housing
Exceptionally short housing, ideal for compact dicing systems – both single and
face-to-face spindle positioning
Top spindle mounting (Gantry) – enhanced structure rigidity
Improved air-bearing design – higher load capacity and rotor stiffness
Better air labyrinth at the spindle front – prevents dirt penetration
Integral shaft lock for easy blade replacement
Removable wheel mount can be dismounted/exchanged by operator for both hub and
hub-less blades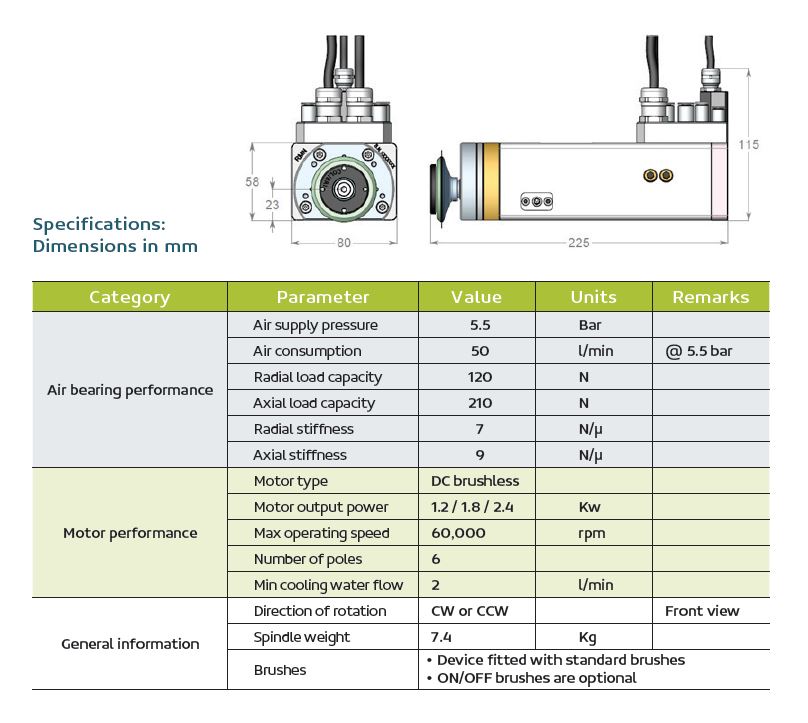 CONTACT US: COLIBRI AIR BEARING SPINDLES (DICING)
efrati@Colibrispindles.com / Marketing@colibrispindles.com
Colibri Spindles is a world leader in advanced spindle technology and solutions, specializing in the design
and manufacture of compact, high-speed coolant-driven spindles, capable of operating with minimal
vibrations and run-out.
Find out more about Colibri Spindles, visit our website: www.colibrispindles.com